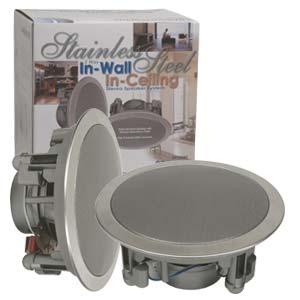 6 1/2" Stainless Steel 2 Way In-Ceiling Speaker System
Features:
* Stainless steel
* Ideal for all areas
* Durable mounting lugs
* Heavy duty cross-over
* Push type spring terminals
* Weather-resistant
* Sold in pairs
Description:
These in-wall/in-ceiling speakers combine the resilience and toughness of stainless steel with the clean look of "the now". Ideal for all areas, weather-resistant, they can handle the toughest of conditions and are great for mounting under eaves. The unique, durable mounting lugs provide stability, while the heavy duty cross-over provides powerful, quality sound.
Specs:
61/2"(165mm) Polypropylene cone woofer with butyl rubber surround
1"(25mm) Soft dome tweeter
Power Handling: 80 Watts
Impedance: 8ohms
Frequency Response: 50Hz - 20kHz
Sold in pairs
Cutout size: 71/2"(193mm) diametre
Dimension: 81/2"(216mm) diametre x 31/2"(85mm) depth