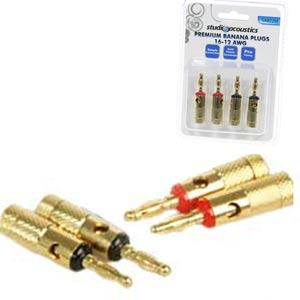 - 4 PREMIUM BANANA PLUGS -
Features:
* Sold As: Four (2 Red, 2 Black)
* Colour: Gold (Red/Black Indicator)
* Metal Housing
* Gold Plated
* Suits Mid To Large Cable, 16-12 AWG
Description:
The Studio Acoustics Premium Banana Plugs are gold plated metal and are designed for mid to large speaker cable. They have an entry hole on the side with a screw down point allowing thick cable to be secured to the plug. They will also accept another banana plug or thick cable in the rear of the plug.
Specs:
* Sold As: Four (2 Red, 2 Black)
* Colour: Gold (Red/Black Indicator)
* Metal Housing
* Gold Plated
* Suits Mid To Large Cable, 16-12 AWG