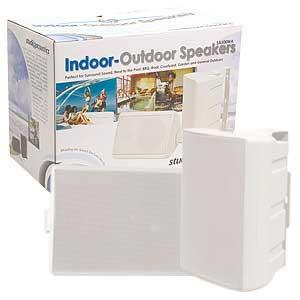 6" 2 Way Indoor/Outdoor 150W Speakers - White
Features:
* Suitable for indoor and outdoor use
* Brackets for mounting
* Stainless steel rustproof grilles
* Water resistant cones
* Sold in pairs
Description:
Indoor/outdoor lifestyle speakers designed to provide surround sound in areas such as the pool, spa, BBQ, courtyard and garden. Excellent design ensures quality sound no matter what the environment. Importantly, robust construction will handle all weather, with addition of stainless steel components ensuring no rusting. The cones are specially designed and are water resistant.
Specs:
6"(152mm) Woofer
1 1/2(38mm) Balance dome tweeter
Colour: White
Power Handling: 150 Watts
Impedance: 6 Ohms
Frequency Response : 75Hz - 20Khz
Sold in pairs
Dimensions:7 1/2(190mm)(w) x 11"(280mm)(h) x 8"(200mm)(d)